Cupcake Boombox!
Apr 30
Tune in to Magic 89.9 right now! Click on this to listen online. :)
Jan 18
Just got back from Magic.
Supportive friends are the beeeest! Aaron, you're such an all time awesome.
Of course, I AM A JJ. NOT A VJ. AND THE DJ'S NAME IS JOSH STRIKE. =))
It's okay, you're still awesome. :))
Jan 11
Just got back from half a slot on the StrikeZone
No photos this time. Haven't been on air in a really, really long time!

I should post photos soon, though.
CupcakeBoombox is getting a little too barebones for my taste. 
Oct 18
[video]
Jul 24
Just finished the Junior Jock show with Junior Jock Finch…who left 20 minutes ago :)) That's Junior Jock Chuck there on the left, and we're doing a mock show at Magic 89.9. :"D Hahahah. Thanks to everybody who tuned in. Tune in next time! It's 12-2 PM on Saturdays, only on Today's Best Music, Magic 89.9.
Jun 26
Sorry about the low-grade laptop photooo
Just got back half an hour ago from our slot on the Junior Jock show from 12-2 PM today on the Magic;
Me and JJ Tino were on; JJs Lance, Bea, and Migi were just there to be epic distractions. :)) Thanks guys. DJ Pat came over just to say hi; I think he was asleep in one of the backrooms at Magic for a while. :)))
Thanks to everybody who listened; tune in next time!
Jun 25
[video]
Jun 22
LADY GAGA HOUR on The Magic. :)
June 23, 2010.
9 PM.
Tune in to Magic 89.9! :"D
Jun 03
The New Sport for the Summer: Nestlé Dodge N' Pop makes a solid second run in Boracay!
More and more people have been getting into dodgeball since the release of the 2004 modern classic Dodgeball: A True Underdog Story, but until last year, organized games the country has been the reserve of a small handful of clubs and weekend players.
This year, the sport of dodgeball is set to climb onto a larger stage than ever. Coming on the heels of last summer's incredibly successful inaugural tournament is Dodge N' Pop 2010, the Nestlé Pops Summer Dodgeball Games. Held over the packed Labor Day weekend in Station 2 in Boracay, Dodge N' Pop 2010 brought the growing phenomenon of dodgeball to the country's top summer hotspot.
Players and spectators were treated to a day of intense competition during the games, with returning dodgeball teams from last year's games going head to head with new faces as well as guest celebrity squads all gunning for the coveted Dodge N' Pop trophy.
The preliminary rounds saw a broad assortment of players throw down in heated dodgeball action. A special celebrity exhibition match was also held, which had Slick Rick, Toni Tony and Sam YG of the Boys Night Out crew clashing heads with broadcaster Boom Gonzales, comedian Maverick, and Magic 89.9 DJs Suzy and Mia, as well as Junior Jocks Tyler and Dale.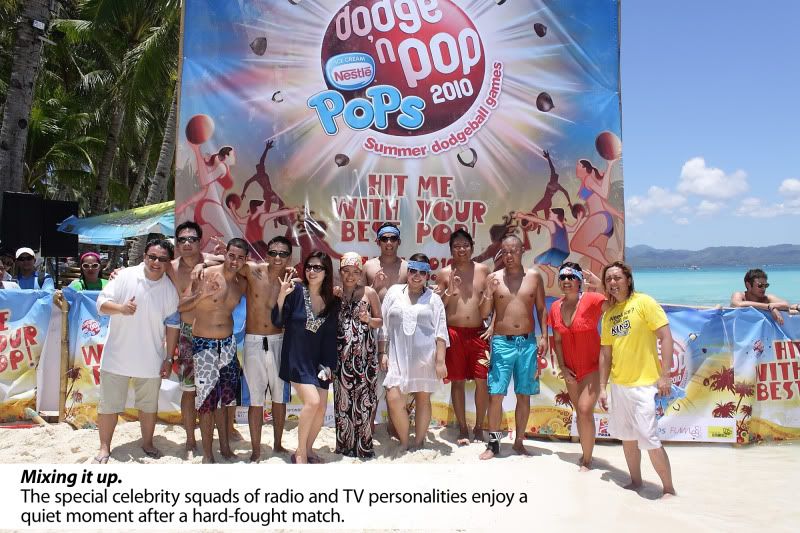 In the finals, the Boracay Strikers bested last year's champions the Boracay Dragons in a close and thrilling encounter to come out on top, picking up P20,000 in cash in the process. The top teams were also given prize packages full of premium health and personal wellness items from major sponsor Philips and co-sponsor Flawless Face and Body Clinic, a perfect tonic for the strenuous action endured by competing teams during the games.
"The sport's fun factor makes it the perfect partner for our Nestlé Pops ice cream snack, an exciting partnership that makes Dodge N' Pop a much apt name for our tournament," said Gel Angeles, Consumer Marketing Manager of Nestlé Philippines.  Nestlé Pops are bite-sized treats made of classic Nestlé vanilla ice cream covered in rich chocolate coating. This innovative snack has become a hit among both kids and adults, especially during the hot summer months.
Local enthusiasts said that the strong turnout for Dodge N' Pop 2010 showed how dodgeball is the perfect sport for the summer.
"Dodgeball is great for the season because literally anyone can try it out and enjoy it right off the bat, without any special training or equipment" said Benedict Camara, President of the Philippine Dodgeball Association (PDBA), which sanctioned and officiated this year's tournament. "It's a lot of fun but dodgeball can intensely competitive also—which is what we saw at Dodge N' Pop 2010."
Nestlé Pops Dodge & Pop 2010 also served as the official kickoff for University Dodgeball Games, a joint initiative between the PDBA and Nestlé that seeks to shore up interest in the sport in the country's top schools.
The PDBA, which is accredited by the International Dodgeball Federation, is dedicated to the development and promotion of dodgeball in the Philippines, and has been one of Nestlé's closest partners in the Dodge N' Pops tournaments.
Over the course of the University Dodgeball Games, the PDBA will be visiting some of the top schools in the country to conduct dodgeball trainer certification programs for PE teachers, free Dodgeball clinics for students, and officiate actual matches.
The best colleges and universities in the country—UST, UP Diliman, La Salle, FEU, UE, La Consolacion, Miriam, Manila Doctors, UA&P, St.Scholastica Manila, PWU and College of St.Benilde—will be participating, with other top schools expressing interest in the activity.
Through the University Dodgeball Games, Nestlé and the PDBA hopes to eventually get dodgeball into the regular curricula of local schools. Already, their efforts have started to pay off, with dodgeball scheduled as an official event in the Women's National Collegiate Athletic Association (WNCAA) calendar for the first time ever this year.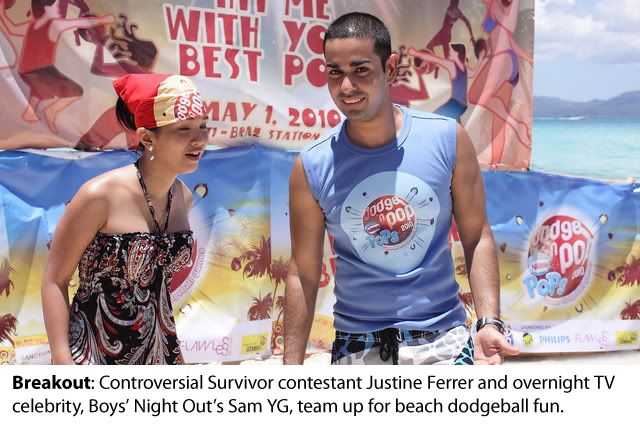 "We're very happy that the WNCAA decided to make dodgeball part of their official schedule," said Camara. "What Nestlé has managed to achieve with its Dodge N' Pop beach tournaments is really an amazing thing."
Hell-ooooo, Tumblr. :D
Hi, I'm Junior Jock Jam from Magic 89.9, and this is my Magic Tumblog.
Onward to the Shameless Self-Promotion!